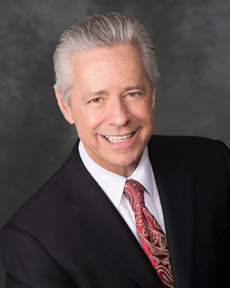 Ken is a commercial transactional, succession and business planning, trusts and Estates/Probate and real estate attorney practicing in Las Vegas, Nevada since 1980. He is rated "AV" in the Martindale-Hubbell Peer Review Ratings and has been a resident of Las Vegas since 1971.
 He received his B.A. from the University of Nevada, Las Vegas in 1976 and earned his J.D. from Columbia University Law School in 1980. In 1983 he also was awarded his Master of Laws (Taxation) from the University Of San Diego School Of Law.
He is a long-standing member of the Executive Committee of the Business Law Section of the Nevada State Bar. The Executive Committee is responsible for drafting and recommending proposed revisions to Title 7 of the Nevada Revised Statutes entitled "Business Associations; Securities; Commodities." Title 7 includes chapters of Nevada law dealing with formation, mergers, maintenance and dissolution of limited-liability companies, corporations and partnerships.
Ken utilizes his tax and business transactional background to assist clients with their real estate, business succession and estate planning concerns and objectives. Many of his clients are referred from various financial institutions, trust departments and tax accountants, with whom Ken has enjoyed a long-time collaborative relationship. A significant aspect of his work involves assisting business owners and executives, as well as individual clients, in transferring increased portions of their assets to beneficiaries on an after-tax basis. His extensive knowledge of and experience in the preparation of wills, living trusts, irrevocable gift and insurance trusts, family-limited partnerships and a variety of other probate avoidance and/or tax advantageous business entities allows him to assist his clients in meeting their financial and tax-savings objectives.
Ken has been responsible for the formation, organization and maintenance of thousands of limited-liability companies, corporations and partnerships. He also responds to numerous company audit letter requests and serves as statutory registered agent for many hundreds of business entities. He has also been involved as both general counsel and local counsel to numerous gaming and non-gaming clients in connection with acquisitions, sales, leasing and financing transactions, including public offerings of debt and equity instruments, credit and loan facilities, mergers and exchanges, and stock and asset purchases.
In past years, some of those transactions included the purchase of numerous properties for Station Casinos' Boulder Station project, the purchase of the Mint Hotel for the Horseshoe Club Hotel & Casino, the purchase of the Dunes Hotel property for Mirage Resorts, the merger of numerous Goldstrike entities with Circus Circus Enterprises, Inc., and the financing of numerous hotel and casino expansions. Non-gaming clients include Angel Productions Worldwide Incorporated, Matrix NV, LLC, Auto Zone, Inc. and Community Psychiatric Centers. Recently, Ken assisted Lehman Re with its liquidating disposition of its Las Vegas real estate holdings.